How soon are Private 5G Networks relevant in the industry?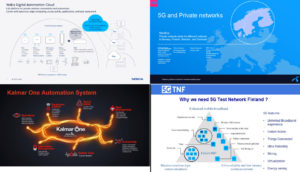 FIIF Event on Private 5G Networks brought together FIIF members waiting to hear the latest news on where we stand with 5G now and how soon it will become relevant in the industrial landscape.
Tuuli Ahava (Director, Nokia Enterprise Solutions) mentioned that industrial 5G is only starting. Even though 5G deals are being made, capabilities of 4G still cover 80 percent of the use cases. The most interesting use cases for 5G in industry are, for example, high quality video, AR/VR, remote training, and "anything automated that is remote controlled and has a camera". One highly relevant use case is mobile robots, which are becoming more common.
Ville Kantola (Business Development Manager, New Business, DNA) commented that need for edge computing and other similar requirements will drive the change towards 5G. He pointed on a survey result that 25% of 5G use-cases are estimated to be dependent on edge computing by 2023. For a company, it is not enough that there is a private 5G network available, but the company needs to change its organization and business model, as well. In the change, mid-size companies are likely to be the ones to benefit first, because they are more agile, and they can adapt and align with the best examples in the market.
Pekka Yli-Paunu (Director, Automation Research, Kalmar) talked about Private 5G in Terminals, especially in port environments, where there is a need to decrease the lead time and increase transparency of terminal operations. The existing proprietary WiFi-based solutions cannot fully satisfy customer needs today. Use of private LTE and 5G networks would be a better solution and improve, for example, security, quality of service, and handling of mobility. For global players, like Kalmar, lack of international roaming poses a significant challenge for scalability of developed solutions.
Kyösti Rautiola (VTT) presented the status and capabilities of 5G test Network Finland (5GTNF) and Marja Matinmikko-Blue (Oulun yliopisto) the lessons learned in 5GVIIMA research project. The presenters and the experts from the audience also discussed the capacity, latency, and reliability of 4G and 5G networks.
The presentation materials are available for FIIF members here