Drones pave the way for future solutions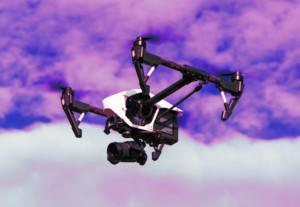 Even though drones are still in the infancy stage in terms of mass adoption and usage, they are already in regular use in selected industries. The latest FIIF Event (March 31st, 2021) focused on use of drones in various types of infra projects and construction sites for the purpose of accurate measuring, monitoring, and surveillance. In addition to collecting valuable real-time status information about the site, drones help in improving situational awareness and safety by, for example, measuring distances to rock edges and excavations.
"Drones are good in accessing potentially dangerous areas on construction sites, because it's better to lose a drone than an human," commented Tero Maijala, Senior Specialist, Services at Infrakit Oy.
Drones improve quality and performance. When used for measuring, they cover a large area quickly and provide accurate measurements for further calculations. The data and aerial photos provided by drones produce quality documents for the engineers and customers.
Lauri Hartikainen, CEO of Pointscene Oy estimated that digitalization could bring 15-25% savings when compared to traditional processes.
The accurate data provided by drones is seen as a step towards a more automated AEC (Architecture, Engineering, and Construction) industry. Accurate data and digital twins are the key enablers.
"Drones are flying robots of today. They are advanced technology used in constructions sites, paving the way for other solutions in the future, for example to autonomous excavators, lorries and so on," said Kalle Tammi, Project Manager at Tampere University of Applied Sciences. TAMK crew also presented their current drone fleet and the latest development programs.
Esa Stenberg from Traficom talked about the drone operator register, opened in January 2021, and the upcoming drone regulations (more at droneinfo ),  and answered audience's questions about drone pilot exams.
Markus Hohenthal, CEO of Lentola Logistics presented the development of fixed-wing aircrafts. The company's VTOL (Vertical Take-Off and Landing) solution was introduced with the company's video.
"This video was filmed last summer, but it already seems like a long time ago, because our technology has developed so fast", Hohenthal commented.
Event's presentation materials will be available for FIIF members through partner log in.