Four Finnish EDIHs help SMEs in digitalization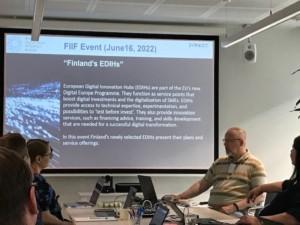 European Digital Innovation Hubs (EDIHs) are part of the EU's new Digital Europe Programme. They function as service points that boost digital investments and the digitalization of SMEs. EDIHs provide access to technical expertise, experimentation, and possibilities to 'test before invest'. They also provide innovation services, such as financing advice, training, and skills development that are needed for a successful digital transformation.
FIIF Event: Learn everything about Finland's EDIHs presented the four recently affirmed EDIHs Finnish AI Region (FAIR), HealthHub Finland, Location Innovation Hub (LIH) and Robocoast EDIH Consortium and comments from the Ministry of Economic Affairs and Employment and Technology Industries of Finland.
Materials are available through partner log in.