First industrial process optimization event attracted a full house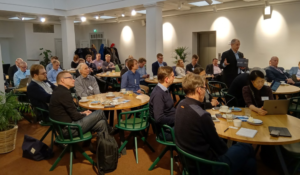 More than 60 people registered to this event, which was organized in co-operation with IBM Oy and the Finnish Software and e-Business Association. Presentations focused on how companies can improve their competitiveness and profitability by optimizing their internal business processes. Heli Laitila (IBM Finland Oy) opened the event with real-life use cases from IBM.
In addition to educating the audience about the regional differences between traditional Finnish rooster whistles ("kukkopilli") Antti Merilehto (Houston Analytics Oy) talked about the use of AI and data analytics in the manufacturing industry: it is a highly iterative process that circles around business and data understanding, data preparation, data modelling, and evaluation. Antti also encouraged companies to start concrete actions instead of focusing on improving the quality of their data.
In his presentation Olli Pasanen (Quva Oy) focused on how to use data analytics and methods of continuous improvement to handle process variations. The whole management needs to be aligned in driving systematic use of data and analytics, in setting project goals and success metrics, and in conducting focused pilots to validate the assumptions. Lasse Huotari (IBM Finland Oy) closed the event with a "preview" to the next event (on March 19, 2020) by showing practical examples of tools and methods, which are used in process optimization.