FIIF event presented applications on machine vision, such as detecting anomalies in fabrics or classifying meat cuts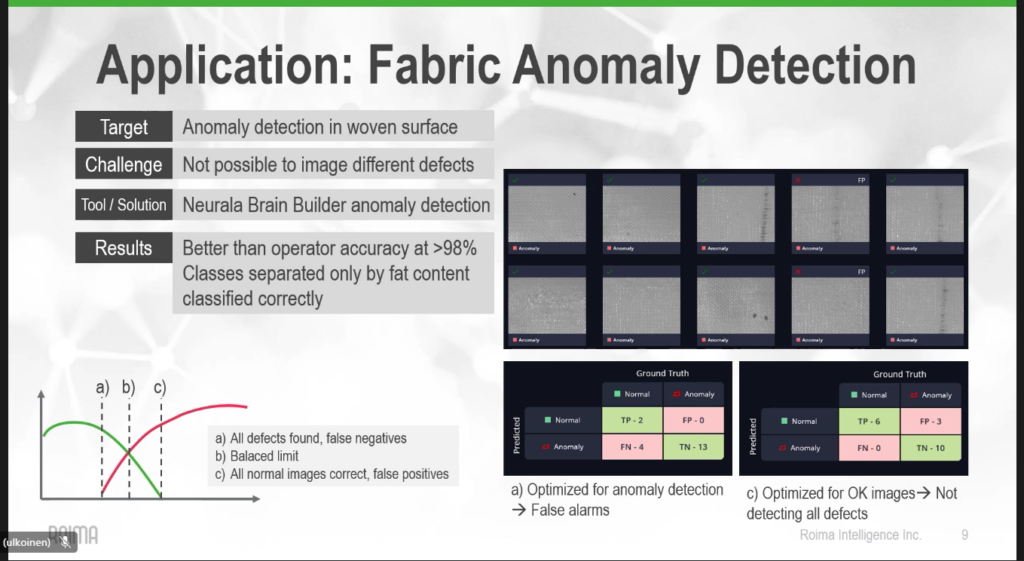 The FIIF Event AI in Industry: Machine Vision presented interesting cases from industry. For example Pauli Komi from Roima Intelligence presented cases of using AI tools in classifying meat cuts. In this application the challenge was the large number of classes, some of which were very similar. As the result, the classes which were separated only by fat content were classified correctly. A different example was anomaly detection of fabrics or woven surfaces, where the challenge was that it was not possible to image different defects. There the analysis was based on good fabrics and AI detected anomalies. The result was that all detects that need to be detected, were detected.
The speakers of the event were:
"Artificial intelligence for ports and terminals", Heikki Huttunen, Visy
"Utilizing Computer Vision in Factory Automation and Manufacturing Quality Assurance", Kai Lehtinen, Top Data Science
"Modern 3D quality control", Miikka Himanka, Silo AI
"Experiences on Industrial Vision Systems Using Commercial 3rd Party AI Tools" , Pauli Komi, Roima Intelligence
The presentations will be available through partner log in.